Ferrero
8th July 2021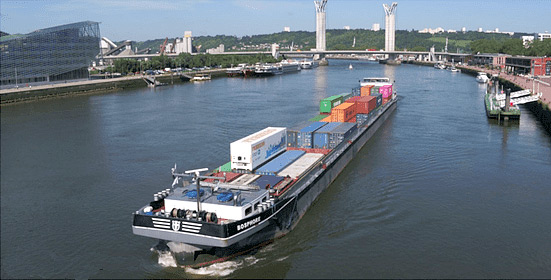 French companies are increasingly concerned about their impact on the environment.
This is the case of the Ferrero group, the French leader in chocolate products, which has become the first industrial company to use multimodal transport to shift its refrigerated containers within the country. We have organised the transport of these containers, which will be done by land, with trucks running on LNG (Liquefied Natural Gas) and by river on barges belonging to the Sogestran group.
On Thursday 8 July 2021, Ferrero inaugurated a new river freight line on the Rouen-Gennevilliers Seine axis. This project will enable 22 Ferrero pallets to be delivered each week to the Monoprix warehouse in Wissous. This will represent a saving of more than 5 tons of CO2 every year!
Sogestran Logistics is ready to listen to all players wishing to improve their environmental impact. ♻️
Other news from Sogestran Logistics