Why choose combined transport?
Economic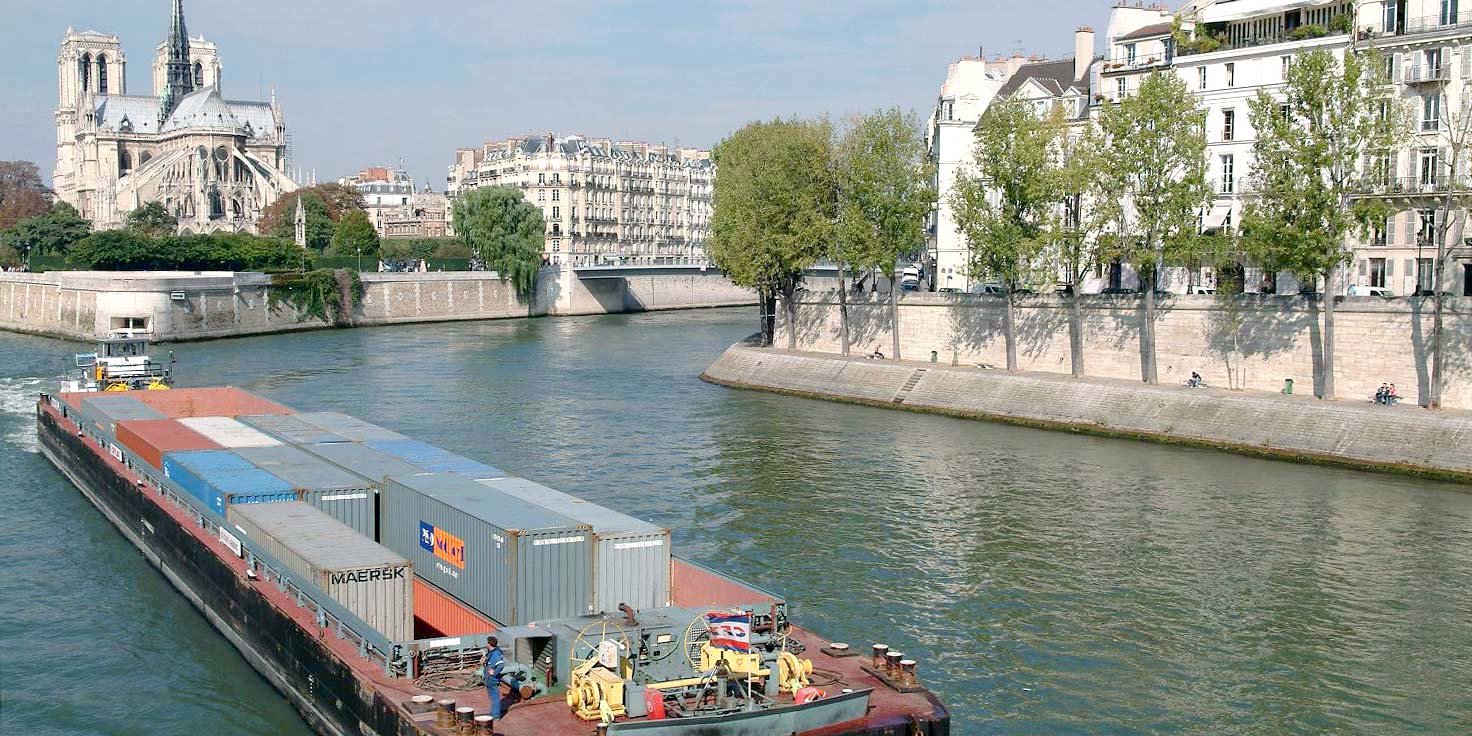 A very competitive and global offer
Sogestran Logistics offers you a global, economical and ecological package, from the pick-up of your containers at the seaports to their delivery (port to door).
Thanks to our frequencies and our carrying capacities, we aim for zero parking fees at seaports.
You benefit from a parking franchise at inland ports, accompanied by an attractive storage rate if this franchise is overspent.
Much more than a simple price, we offer you a real package that will ensure you a solid and competitive pricing structure for your future commercial negotiations!
Environment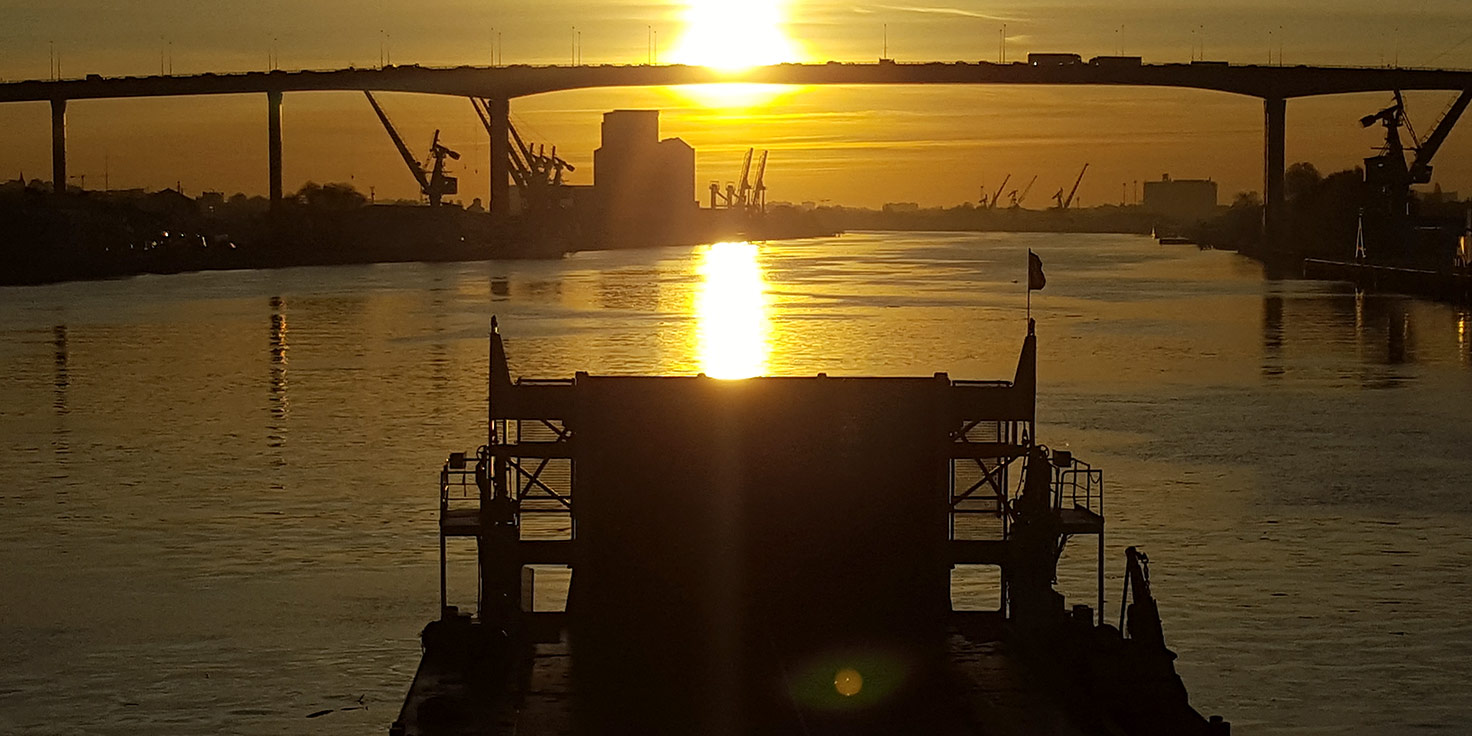 Environmental friendliness through inland waterway transport
We are environmentally responsible!
We offer a mode of transport that is free of noise and visual pollution and is environmentally friendly, with very low CO2 emissions.
In 2021, Sogestran Logistics received the EcoVadis bronze medal, which recognises our CSR performance, and we are committed to improving our rating each year, thanks to our teams who are involved on a daily basis to offer you global and environmentally friendly solutions.

We have considerable transport capacities: Sogestran Logistics charters 5,000 ton convoys that can carry up to 352 TEU per trip!
These river convoys reduce road congestion, environmental pollution and the strain on infrastructure: each one allows avoiding two full trains or 160 additional trucks on the roads, and the resultant pollution.
Sogestran group's tools also contribute to our sustainable development: the combination of our advanced on-board tools and a strong field information system makes it possible to quantify and reduce our environmental impact.
With the creation of its integrated engineering office, the Sogestran group pools its experience to improve the energy efficiency of its units and reduce its impact on the environment.
Flexibility and reactivity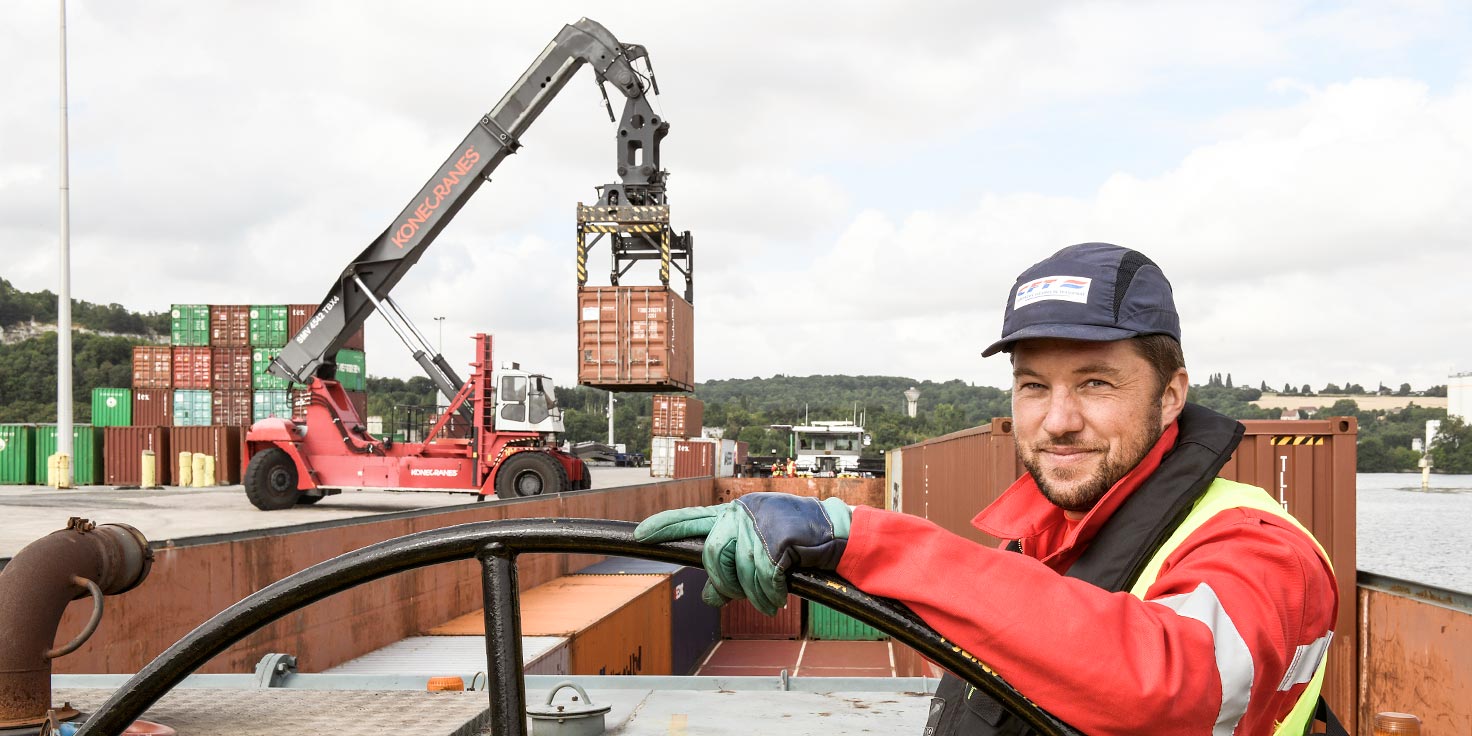 Pre- and post-transport expertise: port to door
Sogestran Logistics is all about human contact and efficient organisation: we offer you a customised transport solution, thanks to our numerous weekly services to seaports and inland ports.
Our global offer is easy to use and very reliable, it includes combined transport as well as the seaports of Le Havre, Dunkirk and Fos-sur-Mer by major logisticians and large shippers.
We charter double-hulled, ADNR-rated inland waterway equipment with a flexible carrying capacity: convoys of up to 352 TEU per departure, sailing seven days a week and 24 hours a day.
As part of the port to door service offer, Sogestran Logistics provides you with numerous pre- and post-carriage road solutions:
Operation under noria: continuous supply wave on a bursting basis, dedicated to linear flows;
Pick-up on demand (e.g. movings);
Tippable chassis;
Approved road equipment (dangerous goods / 44 ton PTRA vehicles).
Customs facilitation
Simplify your transits and anticipate your formalities
Click below on the Pack you are interested in to find out more:
Our Import Pack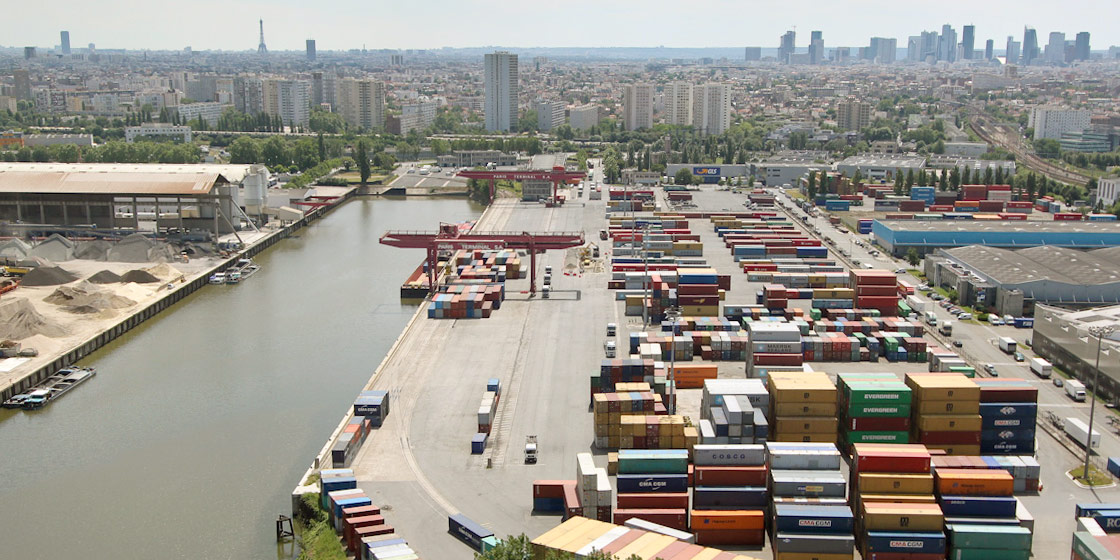 Simplify your community transits
Sogestran Logistics provides you with a simplified Community transit procedure for your containers entering Europe through the ports of Le Havre, Dunkirk and Fos-sur-Mer and then transported by river barge to the inland ports of Ile-de-France, Lille, Dourges, Valencia and Lyon.
In this way, we take on the position of "principal" for the transit operation on your behalf.
This simplified procedure means that you do not need to issue a Community transit declaration: for each container, we take care of its Single Terrestrial Manifest (STM), which is the only document required.
At the ports of Gennevilliers and Bonneuil-sur-Marne, our warehouses or temporary storage areas (MADT) allow us to store your maritime containers transported by river under customs control and to offer you advantageous storage rates.

Read the Soget documentation on the BACT function, Land Manifest Procedure (French language)
Our Export Pack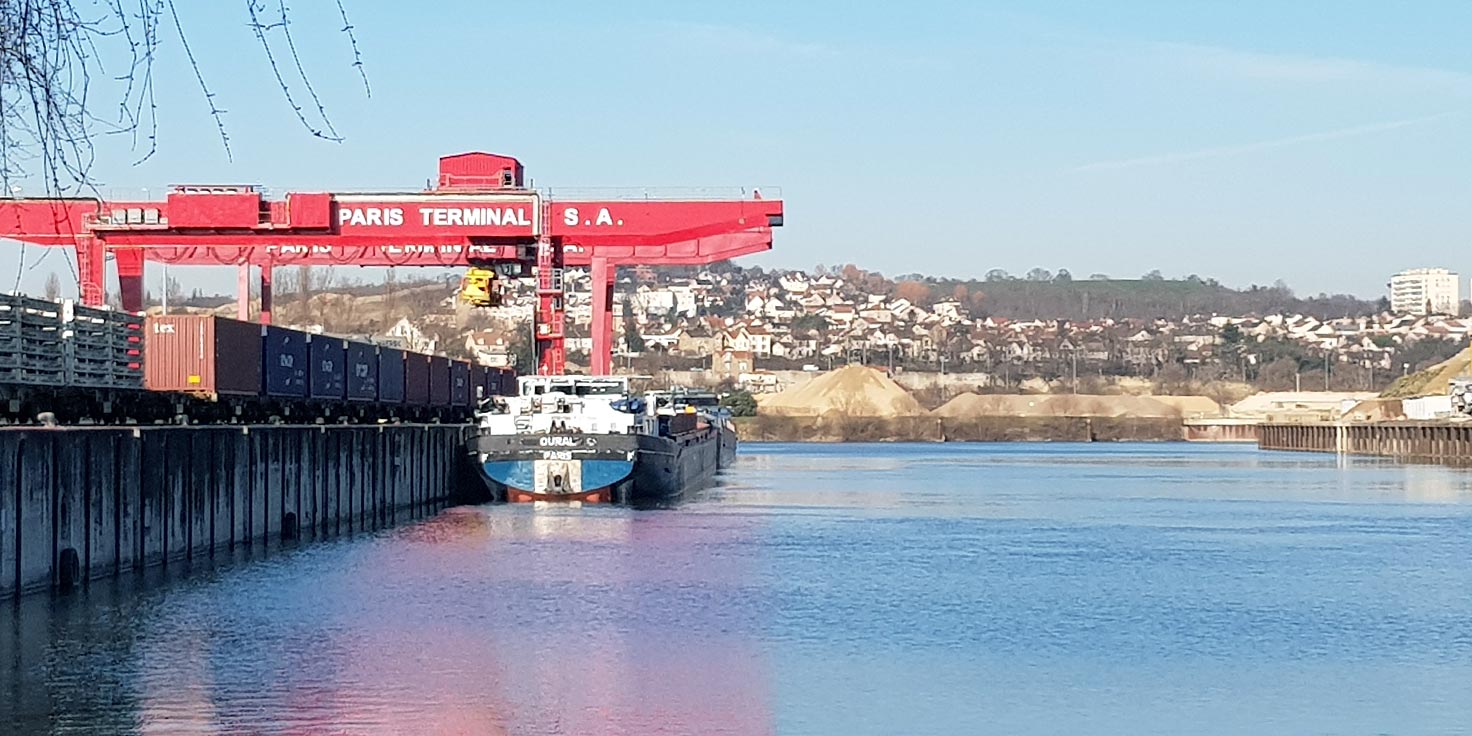 Anticipate your customs formalities
As soon as your containers are loaded at the terminals of the inland ports, the barge is considered as an extension of the container terminal of the destination seaport: Sogestran Logistics immediately sends to S)ONE the confirmation of their arrival at the Grands Ports Maritimes as well as the according booking numbers.
This allows you to complete the customs formalities in advance, during inland navigation, even before your containers are received at the sea port.
Thus, as soon as the sea terminal is notified of their physical reception, your containers will automatically be "good to go" for export.

Read the Soget documentation on goods transported by barge prior to export (French language)
Certifications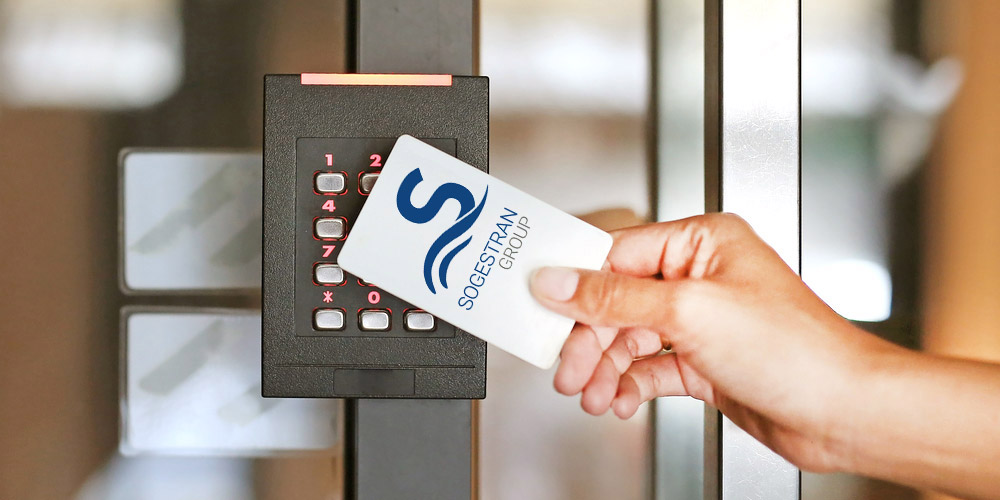 AEO and ISO 9001 certified, we secure your flows
River transport is known for being regular and punctual, while presenting a very low risk of accident.
Your goods are transported in complete safety, as the containers are loaded face to face.
Sogestran Logistics has obtained AEO security certification (Authorised Economic Operator) issued by the Customs Administration, which validates all the internal and external measures that we implement to ensure the safety and security of all your flows, in particular:
The deployment of stable and qualified staff,
The protection of our operational and administrative premises,
The protection of your goods against unauthorised access,
The traceability of your goods.
The quality of our operations is also ISO 9001 certified.